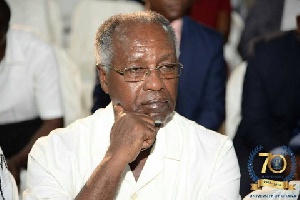 Emeritus Professor Ivan Addae Mensah, a former Vice-Chancellor of the University of Ghana, has proposed to school authorities to reduce the sizes of their classes when schools reopen, as part of the efforts to limit the spread of the coronavirus pandemic.
President Nana Addo Dankwa Akufo-Addo on Sunday, May 31 announced the reopening of schools for final year students at all levels of education from Monday, June 15.
He said after an engagement with the various teacher unions, government has decided to allow final-year students to go back to school to prepare for their final examinations.
In his 10th televised address to the nation on measures taken by government to ease restrictions, President Akufo-Addo said all other levels of education will remain closed to students.
Final year university students will resume classes on Monday, June 15 while Form 3 Senior High School students, as well as Form 2 SHS students on Gold Track, will reopen on June 22, 2024.
Junior high school students will reopen on June 29.
Speaking in an exclusive interview with Alfred Ocansey on Sunrise on 3 92.7FM Tuesday, June 9, Emeritus Prof Addae Mensah said: "Certainly methods of teaching are likely to change, class sizes will need to be minimized.
"That will mean having more teachers in the classroom, more facilities in the classrooms.
"Government should be prepared to put in the necessary financial and other resources to make sure that these facilities are provided for the educational institutions."
He added: "When it comes to the rural areas you will really have serious challenges especially with children in the basic schools. You can have social distancing or physical distancing in the classrooms but what do you do when they go out during recreation?
"How can you prevent them from interacting with each other and from chasing each other on the football field?" he quizzed.